Hello foodies,
Back for a new review on the best places to eat in Dakar! From time to time (often in my case lol), we like to indulge ourselves a little and forget about our good resolutions regarding calorie intake. We all know that Dakar is a gold mine for lovers of sweet treats. Today I'm going to show you Gogo's cupcake! As its name suggests, the cupcake is the main attraction of this charming establishment located at Sacré Coeur 3 which is not very far from the BEM school. Although there are other various choices, my interest fell on the delicious cupcakes.
This weekend, I then went with a friend to Gogo's cupcake in Dakar. The location of the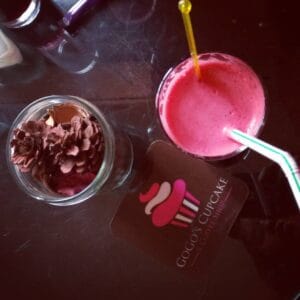 patisserie is quite reclusive, so if you don't have the eye you can very quickly miss the entrance or get lost as I almost did. Once inside I thought the place was quite small in terms of space, but what struck me were the colors and the decor which is cozy with mini sofas and chairs. Personally, I loved it because I'm not a big fan of crowded places that everyone knows. So if you want to find yourself in a small committee or as a couple, this is the ideal place for you.
My choice fell on a red velvet and a chocolate cupcake (I know I abuse lol). I haven't regretted a single second. They were delicious, soft and velvety, a perfect mix. I then accompanied it with a strawberry and bissap smoothie. At first I thought that the combination must not be terrible, but I like to live dangerously! I thought I would give it a try! First sip = explosion of flavors! The value for money was there, 1000frs for the cupcake and 1500 for the smoothie.
What also charmed me was the warm welcome we received from the waitress. She was smiling and caring. We really annoyed her with our stories of photos of cupcakes and decor, but she lent herself to the game. Usually, in most establishments like this, the waitresses are unpleasant, but my experience was quite different. I attach great importance to the quality of the reception and if I had to rate it I would give it an 8/10 (that's more than enough, huh)!
Gogo's cupacke, I validate!
Food, my happiness!
Share in the comments your best addresses to taste good cupcakes in Dakar!