Sushi is a dish Japanese composed of a vinegared rice called shari combined with another ingredient called neta which is usually raw fish or seafood. It is, outside of Japan, one of the emblematic dishes of the Japanese cuisine, while its consumption is only occasional in Japan. The people of Dakar love it to the point that several restaurants serve this specialty. The most common types of sushi are nigirizushi, consisting of a ball of Shari formed by hand covered with a slice of neta, the makizushi which are rolls of nori containing shari and other ingredients or the chirashizushi consisting of shari topped with various toppings.
Sushi spirit is an address to remember. the restaurant invites you to rediscover the subtle nuances of a wide range of sushi with inspired creativity. Esprit sushi demonstrates a prolific inventiveness, without this being at the expense of quality, because the taste is there and the pleasure too. The Dragonroll Maki is one of their specialties which brings together and combines the tender taste of surimi and shrimp with the crunchy freshness of cucumber, covered with a creamy avocado. New original recipes, sometimes spicy, are still offered on the menu for more tastings. Their menu is so well supplied that one is almost taken aback by such an embarrassment of choice. For sushi party lovers, the large 60-piece Sharing Boxes are ideal and perfect to contemplate before making a good bite. You will find a mix of style, flavors and colors for a gluttonous tasting and without disturbing. The setting is modern and is particularly suitable for everyone, whether accompanied by friends or work colleagues. For more subdued evenings, the setting welcomes you and offers you the opportunity to treat yourself like a child. The sushi always very copious for the happiness of the gourmands.
Oh sushi bar you've probably heard of this restaurant which as a sushi spirit is exclusively dedicated to this Japanese dish and its variants. Thanks to its zen-like wooded design, the sushi bar is one of those warm corners where you like to have a good time and linger with your friends to enjoy a meal. The menu offers a wide choice of sushi made on site without fat by a team of sushi men who respect tradition. Their salmon takati is a sweet delight and presented in thin slices of fish briefly seared over a hot flame marinated in vinegar and seasoned with ginger then garnished with Japanese mayonnaise, seaweed and lumpfish roe. The food is wholesome and light and gives off an extremely devastating flavor and taste with a trace of acidity. As for the seaweed, they are soft and crunchy. Many customers also appreciate the unusual mao, salmon avocado burger which is composed of two thick layers of sushi rice consisting between which is inserted raw fish with vegetables and the temaki which imposes a cone made of dried seaweed garnished with fish or surimi and vegetables.
Which makes Sharky's special is its ocean view which is ideal for watching the sunsets while munching on some great sushi. It's a restaurant which offers an ideal setting to savor a deferred choice of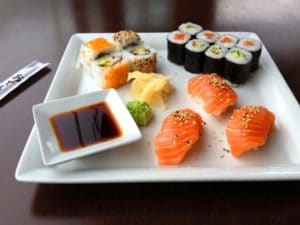 sushi of remarkable delicacy. This trendy establishment has a chic and relaxed setting that you can't find anywhere else in Dakar. Their menu is trendy and as a whole a range of sushi that sets the bar very high through its unique taste. You are a vegetarian, Sharky's offers you a tasty and light crispy salmon sushi that is easy to digest. Meticulously concocted by sushi experts, their Japanese bites are perfectly seasoned and so intoxicatingly fresh that an explosion of impeccable flavor follows. Take a seat in the sun and facing the sea, enjoy your sushi or sea or sun; contemplated the waves and tanned you with the ray of sun I declare it to you it is the paradise on earth.
Chic and tasty sushi you can also find on the fork: a reference address in Dakar Mokai offers you revisited versions of sushi to palliate the end of the greedy. In the spirit of the Food fusion that has characterized the establishment for more than 20 years, gently with Japanese culinary specialties. It is usually composed of some sushi, but also the famous chicken yakitori. There is an emblematic dish of Japanese cuisine where light pieces of poultry lined up on a small wooden skewer are cooked on the grill and brushed with a thick teriyaki-type sauce which is a sweet sauce made from soy. La mokai also offers a range of panoply, the most classic nigiri, maki and rolls often made with Japanese rice, and concocted by the personal touch of the chef who gives hope for a good treat with friends or work colleagues. Don't be told, treat yourself to pleasure by visiting this establishment. You won't be disappointed because the decor, the welcome, the good food, everything is there for a dream outing.
Ahhh here's another one little buddha a restaurant who also offers a sushi banquet while ensuring that the customer is satisfied beyond their expectations. The recipes presented are all concocted from traditional Japanese ingredients, for an authentic sushi experience. When you are presented with the dish you will think that you are in Japan so much there is class and an update of the menus that does not go unnoticed. Even yuzu (lemon) and panko (breadcrumbs) are imported directly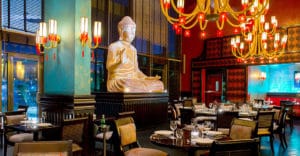 of the Asian archipelago. The menu is established, designed and constantly renewed by the Japanese starred chef Shigeki, while chef Yves Bada officiates on site, behind the sushi bar with experience. Of course, the gastronomic experience here is enhanced by the grandiose setting with a ceiling and lanterns. Culinary ingenuity makes the difference at little buddha, which invites you to its enchanting place with red and golden hues for a privileged moment. It also offers an ideal choice to accompany your productive meetings, or to enjoy a romantic sushi dinner. With its impeccable service and impressive menu, the restaurant ensures you a good tasting Japanese dish that will not only be memorable, but above all unforgettable. The menu offers a selection of Pacific Rim-style dishes, a subtle blend of ingredients and spices whose refined flavors from China, Japan, Thailand and Southeast Asia go perfectly with those of the West. All dishes are prepared in accordance with a concept of sharing cooking. The cost of heart goes certainly to the Tempura Sea food which melts on the tongue. Made with tuna, salmon, sea bream, lettuce and fresh cheese delicately rolled. These light sushi of a total flavor with spicy Japanese five-spice mayonnaise gives a dimension of pleasure to the customer. What a delight and are served in pats placed in the middle of the table to be shared among the guests.