Apprenticeship in project management goes through certifications and diplomas at the end of the cycle. Indeed, to train in Senegal, you can enroll in private universities or do your project management courses online. But, what are the best project management trainings in senegal? We take stock in this article.
Types of project management training in Senegal
Project management training in Senegal is accessible through online courses and training offered by private universities. 
Online project management training in Dakar
In Senegal, it is possible to do your training online. Indeed, some French schools like the central school of the Island give you the possibility of training free of charge in the field. In addition, the latter allows you to have the basics in project management. However, the program runs through a classic, advanced course and group classes.
Learning is done through videos and weekly quizzes followed by group work. Certification is free for students and job seekers.
The next session will take place on March 7, 2022. For more information, visit my.sendinblue.com.
Project management training: face-to-face courses
You can do this type of study in the training centers in Dakar. Indeed, the latter offer certifications and diplomas in project management.
Certification and master in project management in Senegal
The program lasts three months and one year for the master 2. In addition, it allows you to consolidate your knowledge. But you should know that unlike the online course, this course is accessible only with a bac+. However, you can do your training in schools like:
ESMT
IS M
And the master at BEM Dakar
Project management training schools in Senegal: curriculum and registration
Project management training schools in Senegal offer comprehensive courses in project design, organization and deployment with paid diplomas and certifications.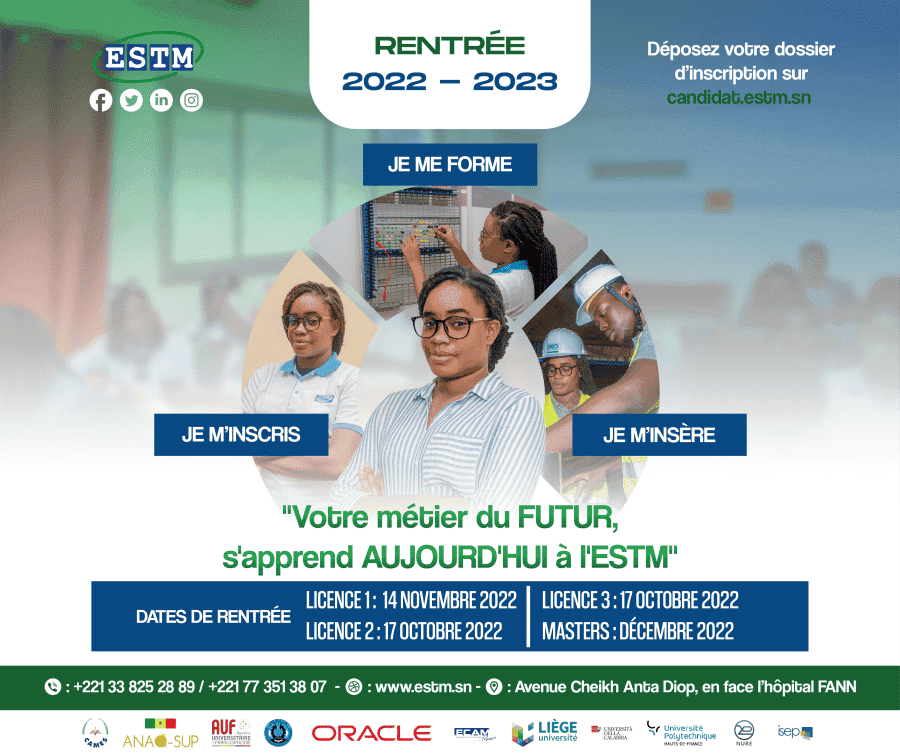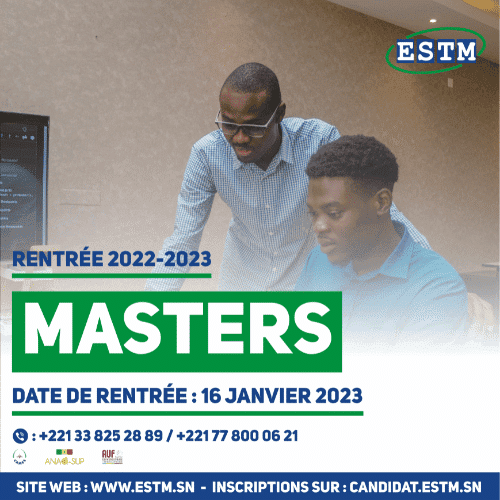 The Higher School of Technology and Management ESTM is also well known in the IT and digital world for having trained engineers and Management Specialists. It is one of the best private schools in initial and continuous IT training. The school also offers distance learning courses, if the idea crosses your mind to follow two courses at the same time in two different institutes. ESTM issues PMP certificates, Scrum Masters, CAPMs.
Our courses in the SCIENCE AND TECHNOLOGY department:
Software engineering and network administration (Bachelor and Master)
Electrical Engineering and Renewable Energies (Bachelor and Master)
Computer Science and Multimedia (Bachelor)
Telecommunications and Networks (Bachelor and Master)
Information Systems Security (Master)
Monetics and Secure Transactions (Master)
[Open courses from BAC+1 to Bac+5 intended for scientific and technical profiles.]
Our sectors of the MANAGEMENT-COMMUNICATION department:
– Management sciences (Bachelor)
– Digital Marketing (Bachelor)
– Finance-Accounting (Bachelor and Master)
– Transport – Logistics (Bachelor)
– Marketing-Communication (Bachelor and Master)
– Human Resources Management (Bachelor and Master)
– Project Management, Entrepreneurship and Innovation (Bachelor and Master)
– International Business Project Manager (Master)
[Courses open from BAC+1 to Bac+5 all series]
– Information and Registration
Tel: +221 77 351 38 07 or +221 33 825 28 89
Email: registration@estm.edu.sn
– To submit your registration file: http://candidat.estm.sn/
– Address: Dakar, avenue Cheikh Anta DIOP in front of the FANN hospital
ESMT
The program is aimed at professionals. Indeed, its purpose is to enable them to consolidate their theoretical knowledge in project management and prepare them for PMP certification.
The duration of the training
The session lasts three months with evening classes.
Who can enroll in the program ?       
If you have a bac+2, you must justify a level of experience of 5 years in project management to register. In addition, persons holding a license must have at least 3 years of experience in the field.
BEM Dakar
BEM Dakar offers a master's degree in project management. Indeed, the latter is inspired by international standards and norms in NGOs. In addition, the program gives you the opportunity to train in CAPM, PMP, Prince2, etc.
Prerequisites   
It is accessible to people holding a master 1 or a master 2 in economics, marketing, management and accounting. In addition, it is done in 1 year with two semesters in evening and weekend classes.
To pre-register, go to the website www.bem.sn.
Opportunities
Obtaining a diploma or a certificate in project management opens several doors for you. Indeed, you can access professional responsibilities in business or in NGOs. You can work as:
Project Manager
Business Analyst
Expert in project monitoring and evaluations
Portfolio and Program Manager
Project management training in Senegal gives you the opportunity to train and easily integrate the world of work. Now, it's your turn to play.
Find all our articles on our blog