The cotton candy machine rental in Dakar can be done easily. Whether you're a party planner or a vendor, you'll have what you need. There are various models on the market: domestic, semi-professional or professional. Want to know more, follow us in this article.
What is the rental price of a cotton candy machine in Dakar?
Cotton candy machines are a popular choice for occasions that call for a treat. But what's the best way to rent one?
The answer is simple and it depends. Some rental companies charge based on the length of the rental. So if you rent a cotton candy machine for one day, you will pay less than if you rent it for two or more days. You can rent it from 35,000 F CFA on senegalndiaye.com. On Loozap the rental price is 50,000 F CFA per day.
Other stores charge per person. This is the case of Neri group located at Sacré Coeur 3 roundabout JVC. On site the rental price will depend on the number of participants in the party.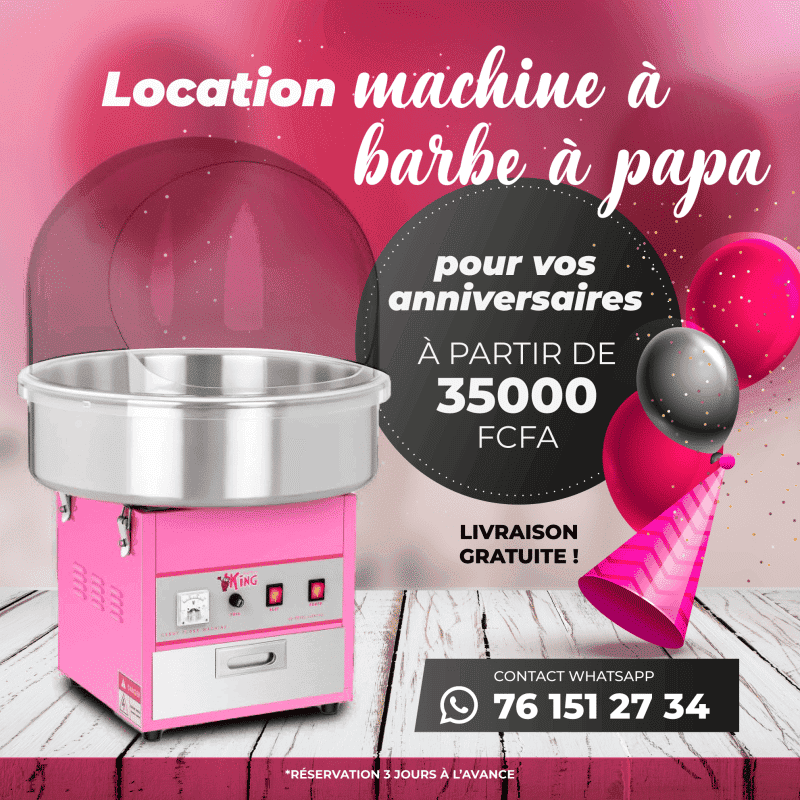 Why rent a cotton candy machine?
Renting a cotton candy machine can be a great way to entertain your guests, or even just add some excitement to your event. They are an excellent choice for many reasons:
They are easy to install and dismantle. You don't have to worry about loading and unloading. Just put the machine in place, plug it in and let the fun begin!
You can rent them by the hour or by the day. So you can organize your event exactly the way you want, and if you want to change things up later, no problem.
The machine itself is portable and easy to store when not in use. No more carrying heavy machines that take up a lot of space!
The cotton candy machines come with all sorts of cool accessories such as sprinklers, ice cream scoops, lollipops, etc., so your guests will be entertained for hours!
How to find the best cotton candy machine to rent in Dakar?
A cotton candy machine is the perfect solution for your party. This type of equipment is very useful and will make your party more enjoyable.
You can rent the machine online or in stores selling birthday accessories in Dakar. Online sites have many classified ads that allow you to find the best rental prices. You can easily contact the seller and have it delivered. You can also ask questions on social networks like Facebook. There are dozens of groups that allow you to rent this type of equipment.
Physical stores are also very easy to find. A simple search on Google will allow you to find the addresses. You can choose the type of machine that suits you and have it delivered to your place of work or your home.
Renting a cotton candy machine in Dakar is very simple, just follow the tips mentioned in this article. Now you have all this information, do not hesitate to take a look at our ad site to sell or buy products or services.
Find all our articles on our blog