Are you a company that evolves in the sale of food? You want to magnify your dishes by putting them in beautiful packaging, but you don't know where to find them in Dakar. Here are three packaging makers we've unearthed for you.
1- RUFSAC

Located at Km 2.5 BCC Dakar, the Rufisquoise Paper Bag Manufacturing Company (RUFSAC) offers recyclable kraft paper bags. You have a wide range of papers that between:
* Small pouches
These are small sachets whose format is width 12cm, height 21cm or width 14cm height 26cm among others. They will be useful for your shopping bags, pastries, pharmacies, etc.
You can request a quote with the color of your choice from 1000 bags.
*Large bags
These are kraft paper bags that can always contain between 10 and 50 kg to bag products such as powdered milk, coal, flour, etc.
The dimensions of the bags vary between: l 32cm; L 41cm and W 70cm, L 150cm [we have taken the minimum dimension and the maximum one, there are intermediaries]. You can also request a quote from 25,000 bags minimum and 100,000 maximum.
*Custom Bags
Choose your range of bags from the palettes offered and together create your design, logo and colors.
You have the choice between 8 colors and the dimensions you want. For a quote request or to see the services offered as well as the models go to the website www.rufsac.com, or call 33 832 64 91 or send them an email on rufsac@rufsac.com
2- SOFIEX
The agri-food giant is not limited only to food products, but has expanded its range with the manufacture of food supplies and packaging.
Located at 15 Rue Galandou Diouf, the Import Export Manufacturing Company (SOFIEX), offers you:
- pizza boxes with a dimension of 29x29x50 per box of 100 pieces,
- citrus boxes size of one 16x8x50 per box of 100 pieces
-Bags of croissants dimension 101×100 per 100pcs
-Bags of sandwiches 1000 pcs. They even make baking papers.
For more information you can reach them at 33 849 10 92 or visit their website www.sofiex.sn
3 – FIRST JET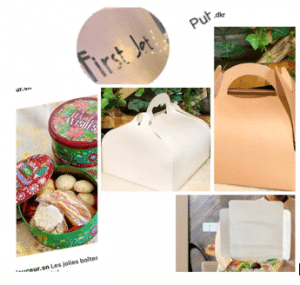 Located on 43 Rue Galandou Diouf, FIRST jet is a supplier of packaging, either in kraft paper, or in iron or wood boxes or even in transparent plastic. It also offers you
-boxes of pizza
- boxes of donuts
- boxes of cakes
-boxes for brunch
Ideal for your deliveries of petits fours, savory or sweet platters.
You can visit their Instagram page for more options or call them at 338238626.
Find all our articles on our blog