We all loved Beyoncé's Brown skin girl, but imagine this complexion enhanced by Lupita Nyong'O's nappy girl style… What a devastation!!!! Ah the hair, we love it because it makes all our charm, and we are ready to go to all the beauty salons to take care of it. And in Dakar, there are quite a few shops specially designed for hair care based on natural ingredients. And believe it the returns are satisfactory. We can cite the Akoya hair, Afro nature, the Feewi, the Adaa Ada, VSapill'care  and Magic hair love.
Capill'care
Capill'care is a brand that offers innovative natural hair care based on Ayurvedic plants to effectively treat hair problems encountered by women: alopecia, hair loss, breakage and dryness. Let your hair be naturally curly, frizzy, kinky, wavy and straight Capill'care helps you take care of it and boost length.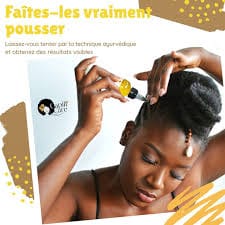 The Ayurvedic oil bottle of 150/250ml stimulates the hair and gets rid of dandruff. The 250ml Ayurvedic fortifying mask balances the hydration of high porosity hair as well as other products at 13,500FCFA for the Capill'Shampoo Bar range or the Capill'Hair Growth Oil. For more info visit the website capillcare.com. The brand is available in France at 65 Rue Gambetta, 92150 Suresnes, and at Point E Poste Fann Boutique les hairoines, Senegal. For any order go to the site or call 77 385 25 84. You can find several testimonials from satisfied customers on their instagram page @capillcare_officiel
Akoya hair
If you find it difficult to take care of your nappy hair, Akoya hair is specially opened for you. This hairdressing beauty and care institute for frizzy and mixed hair is determined to highlight the Africanness that emerges from the beauty and originality of Afro hair. The salon welcomes you in a simple, modern and uncluttered setting, and offers you quality service. With their capillary range for adults and children 100% made in Senegal composed mainly of natural ingredients, the house always knows what your hair needs. Apart from treatments Akoya also offers all types of braids. If you are determined to take the first step and take care of your hair, now is the time to call +221 77 691 06 06. The salon is located at 11000 Sacré Coeur 1 villa 8255 Dakar SN, A charming staff welcomes you from Tuesday to Saturday from 9:30 a.m. to 7 p.m. and Sunday from 10 a.m. to 6:30 p.m. The brand is very present on social networks, do not hesitate contact them for more information.
instagram.com/akoya hair?igshid=1j2q3mrrkus3e
Afro Feewi
Afro Feewi is a well-known brand for its hair care services made in Senegal with natural ingredients for a better hair care routine. your hair is healthier with all-natural products (ointment, growth treatment, care applicator, cap, detangling brush, lotions, oil bath). The house also offers satin bonnets customized with African fabrics to stay close to African culture. The results are visible after one month of use. To order, the online store will do http://myafrolegacy.com/category/natural-hair-tips/. If you are unsure about suitable products for your hair, ask the afro feewi service for advice by calling 77 527 81 48. The salon also welcomes you to Maristes Dakar. The Feewi brand is present on social networks: https://www.facebook.com/afro.feewi/  @afro.Feewi for Instagram, @afrofeewi for twitter.
Adaa Ada
The Senegalese brand Adaa Ada is a benchmark of natural products for all hair types. Adaa Ada offers a range of products that revitalises, brings shine, hydrates, nourishes and activates hair growth with ranges made in Senegal (creams, conditioner, detangler, milk, lotion, masks, oils). Apart from its services, the brand offers on its page https://www.adaa-ada.com tips for hair care routine. To order go to their website or call +221 78 126 21 47/ +221 77 385 25 84/ +221 33 860 24 82/ +221 77 640 70 67. The points of sale of Adaa Ada are at Ouest Foire, Cité ICS, at Point E Poste Fann Boutique les hairoines, at Ouakam Pharmacy of the Renaissance (Mame khalifa Niasse) and at Thiès Pharmacy Lamp Fall. The shops are open Monday – Saturday 9 a.m. to 5 p.m.
magic hair love
Yafa beauty's magic hair love range is also well known to fans of healthy, long hair. Growth stimulator, it is intended for women as well as men. It acts on frizzy, straightened or transitioning hair. For an affordable price, this brand helps you keep your charm. You can have a booster cream or alopecia oil at 5500 fcfa, a moisturizing foam at 7000 fcfa and a mask, lotion or shampoo at 5000 fcfa. Yafa beauty offers you a complete range at 25000 fcfa to nourish and take care of your hair on a daily basis. For your orders, the magic Skin love delivery service is available Monday to Sunday from 8 a.m. to 4 p.m. and can be reached at +221 77 531 10 60. You can also make your purchases online at www.yafabeauty.com. The service is very responsive on social networks https://www.facebook.com/magichairlove on Facebook @magichairlove on Instagram and twitter. The brand is available in Thiès +221 77 447 64 64, in Mbour +221 77 652 32 10 in Saint Louis +221 77 213 32 22 and in France 0669225715.
Find all our articles on our blog