You are parents, you live in Dakar or its surroundings, you want to go out with your children and find playgrounds in Dakar? This article is for you! The little ones have a lot of energy to spend, so they need activities to move and spend energy while having fun. So where are we taking them?
1-BD passion Dakar:
BD Passion Dakar – Leisure center for 2-14 year olds – The ideal solution to intelligently occupy your children on weekday afternoons, Saturdays and during school holidays.
Sacré Coeur 3 VDN (behind the Mamoune Residences)
The center offers more than 60 different activities according to a monthly program: arts, creations, slam, hip hop, coding, electronics, cinema, photography, painting, drawing, creation of comic strips, digital workshops, crafts, board games, sports games etc
Vous pouvez contacter BD passion au 77 856 85 62
Outings are organized almost every Saturday : unusual places, outdoor activities, treasure hunts in museums, nature reserves, swimming pools, leisure parks and many other surprising places!
Children are supervised by experienced instructors. The parents entrust them without accompanying persons.
Rates from 4500F for half a day in the center / from 8000F for a whole day.
No registration necessary.
Catering is available on site.
Schedule : 
Monday to Friday from 2 p.m. to 6 p.m.
Saturday from 9 a.m. to 6 p.m.
School holidays: 9 a.m. to 6 p.m. Monday to Saturday
closed on Sundays and holidays.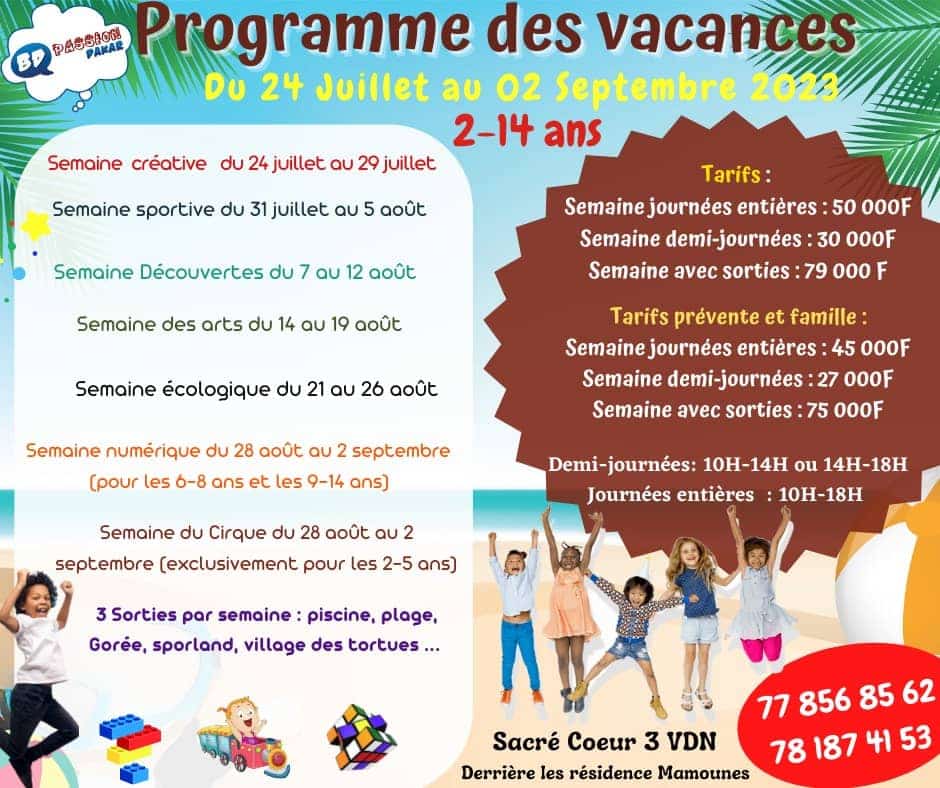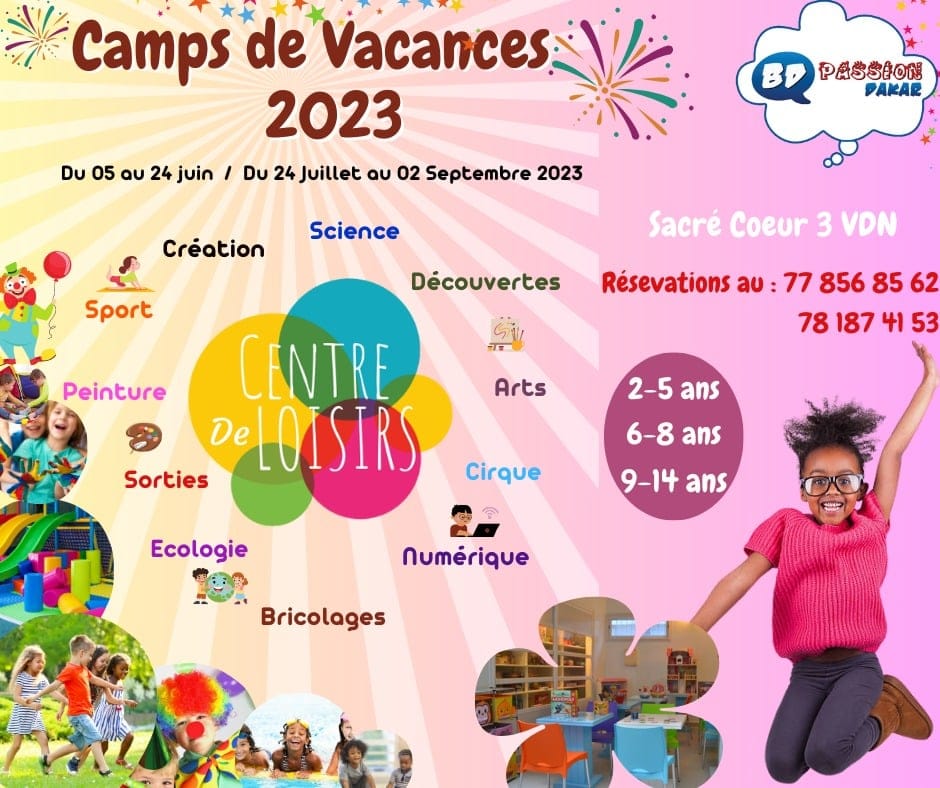 2- Amazing teranga
Avec Amazing Teranga permettez à vos enfants de découvrir notre beau Sénégal avec un parcours Loal Fadiouth, Sine Saloum, des nuits en camping et de nombreuses autres activités ! Pour les enfants de 6 à 13 ans.
Si vous voulez plus d'information sur le programme cliquez ici
Du 20 au 17 Août
Contact : 77 114 50 12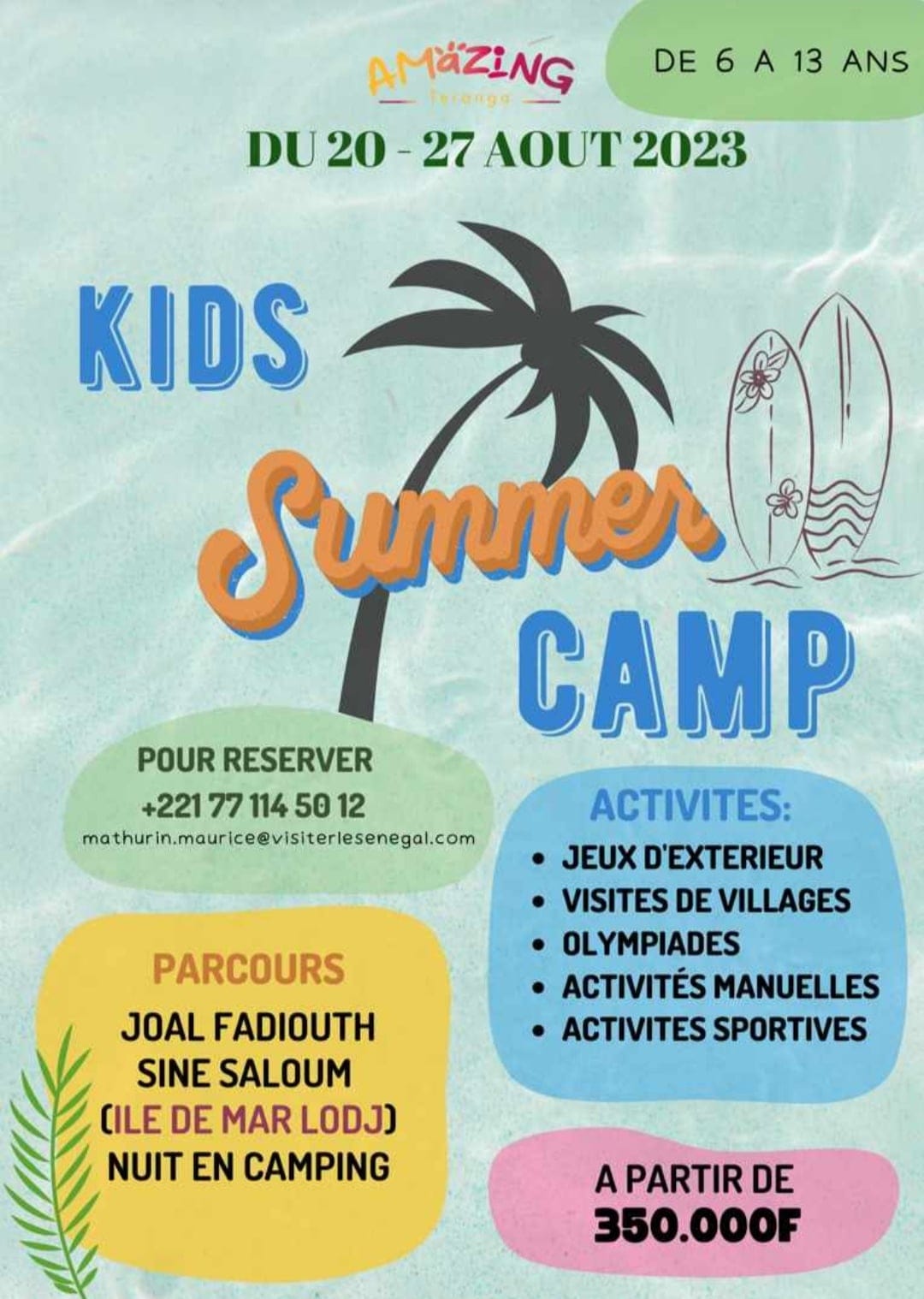 3-SUN PARK
Address: Avenue de la République opposite the Ministry of the Interior in the gardens of the cathedral
CONTACT: 77 230 89 54
Opening hours: the park is open from 4 p.m.
Entrance to the park is free. The price of the attractions varies between 500f and 1000f with a wide variety of games: a large trampoline, bumper cars, karting, inflatable rides, video games, arcade games...
4-L'esplanade Sea Plaza
Shopping in peace with your children is possible at Sea Plaza! Just keep them busy. The Sea Plaza esplanade offers more than 10 manual activities for children from 3 to 12 years old: crafts, coloring, games, nursery rhymes, stories or trying the rides. Admission is free but it will take 1000f for each ride. You can also order cotton candy or popcorn.
5-corniche ouest
Get out of our house, take in the fresh air, enjoy the view of the sea, with your children next door who will certainly appreciate an outdoor space to play alone or with others, slide on the slides, climb on the swings. The playground is free!
6-Magic land
Address: Corniche Ouest, opposite Soumbédioune
Opening hours: - the park is closed on Mondays, Tuesdays, Thursdays
-Wednesday: 2 p.m.-10 p.m. Friday: 3 p.m.-10 p.m.
-Saturday and Sunday: 10am-10pm
It is the largest amusement park in DAKAR. Access to the park is chargeable and will cost you 2500f which is equivalent to 10 game tickets. You can spend between 2 and 8 tickets/game… Your children can have fun with flying cars; caterpillar train, one-wheel pony carousel, bumper cars…
7-Institut français de Dakar
Are the children too glued to the screens? And if we introduced them to reading thanks to the French institute which has a library, with reading support and loan of books and DVDs
Rates (children up to 17 years old): 10.000f / year
Opening hours: Monday and Thursday: 1 p.m. to 7 p.m.
Tuesday, Wednesday, Friday, Saturday: 9 a.m. to 7 p.m.
The institute also offers workshops, theater and special youth cinema. If your children have a little peckishness, the restaurant of the institute is right next to
8-monument de la renaissance
It is at the breasts. The Renaissance monument has a large esplanade, access is free. Cars do not have access to it, your children will be safe to run, cycle, rollerblade, fly their kites.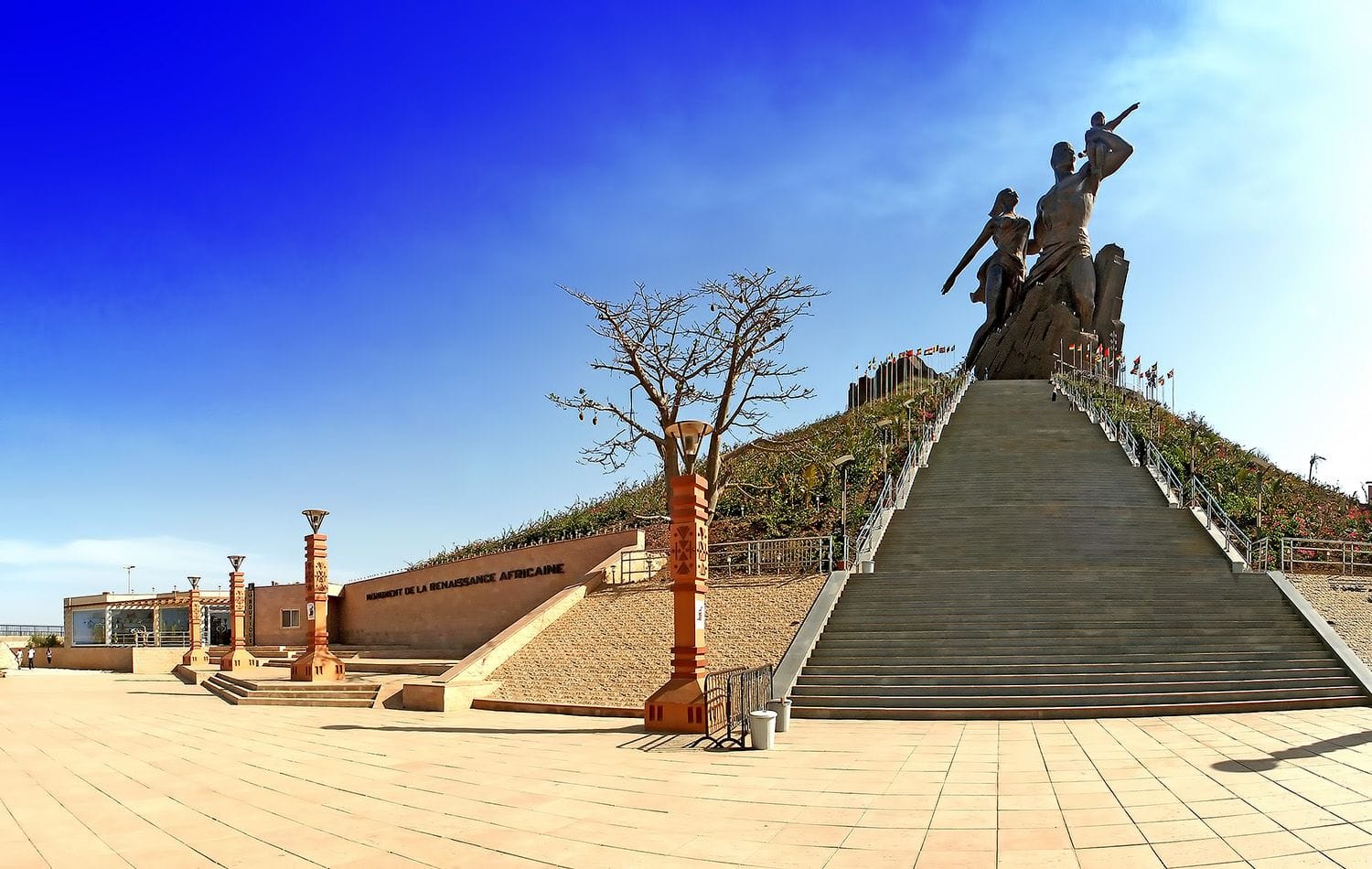 9-cinéma
The Ousmane Sembene complex and the Olympia canal offer film screenings for children.
Address: in town, 55 avenues president lamine Gueye, very close to the grand theater
-Classic price: child <12 years old: 1000 FCFA
3D price: child > 12 years old: 1500f
+ 3D glasses: 1500 FCA
Ousmane Sembene Cinema Complex:
address: located just at the magic land
2D rates: children 1500f 3D rates: child 2000f
10-Parc hann
Hann Park is a zoo where children can see lions, hyenas, snakes. The entrance to the zoo is 300f for children and 500f for adults.
Failing to visit the zoo you can enjoy the zoological garden this beautiful green space with a very pretty lake. A very large space where children can run and play outdoors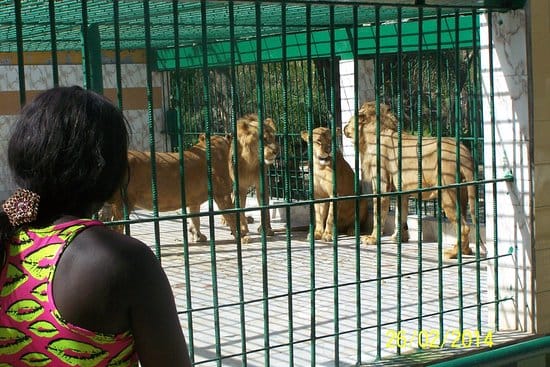 11-Stem Cafe Dakar
Address: Rue 48 Point E, Dakar, Senegal.
Contact: +221 77 335 70 10
Hours: Mon – Fri: 12 p.m. – 6 p.m., Sat: 10 a.m. – 6 p.m., Sun: 2 p.m. – 6 p.m.
Age range: 5-18 years old
STEM stands for Science, Technology, Engineering and Maths. With STEM café, combine business with pleasure. Develop creativity, thinking, curiosity in your child while having fun through scientific experiments, robotics, 3D modeling, integrated system designs…….In addition Stem café integrates students of all learning abilities, including including children with disabilities.
Reservation is mandatory to register your child for a session and allow him to carry out the activity he wants.
What if you have carried out one of the activities mentioned above? Don't forget to leave a review.